Looking for a Truly Special Christmas Gift?
Take a look at our cute Holiday Stockings stuffed with a Valuable Gift Certificate and music-related goodies!
Find Out More!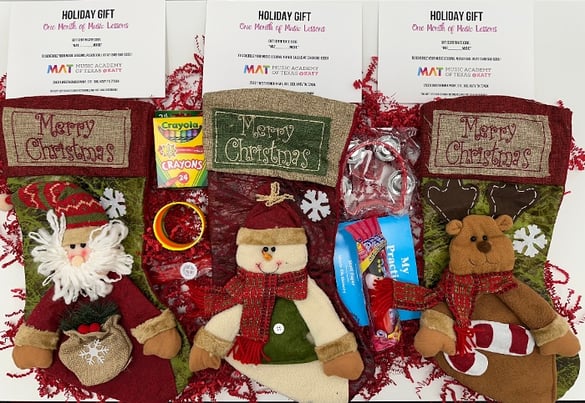 5 BIG Reasons to Join Music Academy of Texas
Life Transformation
We're passionate about helping students lead happier, healthier, and more successful lives by immersing themselves in music and art activities.
Personalized Teaching and Learning
You are unique! There is nobody in this world who learns exactly the way you do. That's why we customize our instruction to your Individual Learning Preferences and Goals.
Quality Assurance
To maintain consistently high standards of service, we are very selective when hiring new faculty and administrators.
Diverse and Inclusive Community
We are a multi-cultural community of art lovers because we believe we're stronger together.
State-of-the-art School Facilities
We do not believe that lessons should be taught "in the back of a music store," as is so often the case. Rather, we operate in beautiful facilities that are designed as schools and laid out to offer a comfortable and inspiring learning environment.
Where to find us in the wider Houston Area
We currently have locations in Katy and Houston. Music Academy of Texas @ Katy is located at 25031 Westheimer Pkwy, TX 77494. Our Houston location, which is branded Cy-Fair Music and Arts, is located at 7103 Glen Chase Ct, TX 77095. Both schools are owned by two professional musicians, Valentina Jotovic and Dr. Antonius Bittmann.
Check out program offerings in each location by clicking on the boxes below!
Why Join Music Academy of Texas?
Regardless of which location you choose, expect to benefit from these great features and services:
Excellence in Music Education for more than a Quarter Century!

Since 1993, when cy-Fair Music and Arts first opened its doors, we have perfected teaching the arts to students of all ages. Rest assured, you are in very good hands here.
Instruction Personalized to each student's learning preferences and goals

All students are unique individuals and learn in their own individual ways. That's why we tailor our lessons and classes to each individual student's learning preferences and goals.
Royal Conservatory of Music Certificate Program

Most Music Lesson students freely choose their songs and the pace of their learning in consultation with their instructors. However, students who crave or need a rigorous curriculum as well as periodic performance evaluations have the option to pursue the prestigious Certificate Program of the Royal Conservatory of Music in Toronto, Canada. This program is entirely optional.
Professional Music Instructors

All instructors have been carefully vetted for their professional qualifications. They hold university or college degrees in their chosen field or have equivalent professional experience in their industry.
Safety and Peace of Mind Guarantee

Our rigorous interview process ensures that only the very best teachers and administrators will get the privilege to serve you. All employees also must pass background checks. In addition for everyone's safety and peace of mind, our lesson room doors have observation windows and classrooms are equipped with audio and video surveillance.
No Long-term Contracts

Most of our students stay enrolled for extended periods of time. And they do so by choice; there are no long-term contracts or commitments. You may stay enrolled for a couple of months or several years. It's up to you!
State-of-the-Art, Spacious Performing Arts Facility

Enjoy the school atmosphere and spacious design of our modern facilities for your lessons and performances!
Ample and Convenient Parking

No need to agonize over finding a parking spot when you attend your lesson or bring your child to class. There is ample parking right by our facility.
Rolling Admissions

We do not operate in semesters or trimesters. Rather, you can join our Music Lesson Programs anytime of the month and all year round!
Free Music Recitals and Shows

Several times a year, you may participate in free music recitals and shows offered onsite at our facilities, other venues in the local communities, or fully online.
High-quality Instruments in Music Lesson Rooms

Piano and Drum Lesson studios are equipped with high-quality instruments that are maintained on an ongoing basis.
Looking for Music Lessons "near me"?