The Guitar now rivals the Piano in popularity among people of all ages. No wonder the guitar is practically everywhere! Can you think of any band without at least a lead guitarist? How about rock, country, pop, and other types of contemporary music? The Guitar is practically everywhere, and that is because it is an absolutely wonderful instrument, fairly easy to learn, and equally important, easy to carry even for young kids!
Whether you are a young guitar beginner or an advanced guitar student already, the Guitar Faculty at Music Academy of Texas @ Katy stand ready to help you achieve your musical goals.


Guitar Lessons customized to your individual learning style
At Music Academy of Texas @ Katy, we believe that everybody absorbs information differently and therefore should be taught differently. That's why our teachers tailor their guitar lessons to each individual student. When students are taught in ways that they can understand, they can make progress quickly and enjoy the lesson experience. A good lesson experience motivates students to stick with the instrument, often for many years, and become really good at it!
Many different varieties of Guitar Music
Our Guitar Instructors are well versed across a broad range of guitar music styles. Let your Guitar Teacher at MAT which guitar music you love so that they can help you learn your favorite songs!
What are your Guitar Lesson Formats in Katy?
Guitar Lessons at Music Academy of Texas @ Katy are available in 30-minute and 60-minute time slots.
We start students on the guitar when they are about 5 to 6 years old.
Request More Information about Guitar Lessons!
Why Kids and Adults Alike Love Guitar Lessons
Playing the Guitar helps you make new friends!
While the Guitar sounds awesome even when played by itself (solo), more often than not, guitarists play together with other musicians–often to accompany a singer or as a member of a band. That's why it's easy for guitarists to make new friends! And it's so easy to transport. Grab your guitar and take it anywhere!
There is so much guitar music and so many different types of guitar to explore! From classical guitar music to rock, pop, country, metal, and an endless variety of other contemporary styles. If you don't know your favorite guitar music yet, you WILL find it!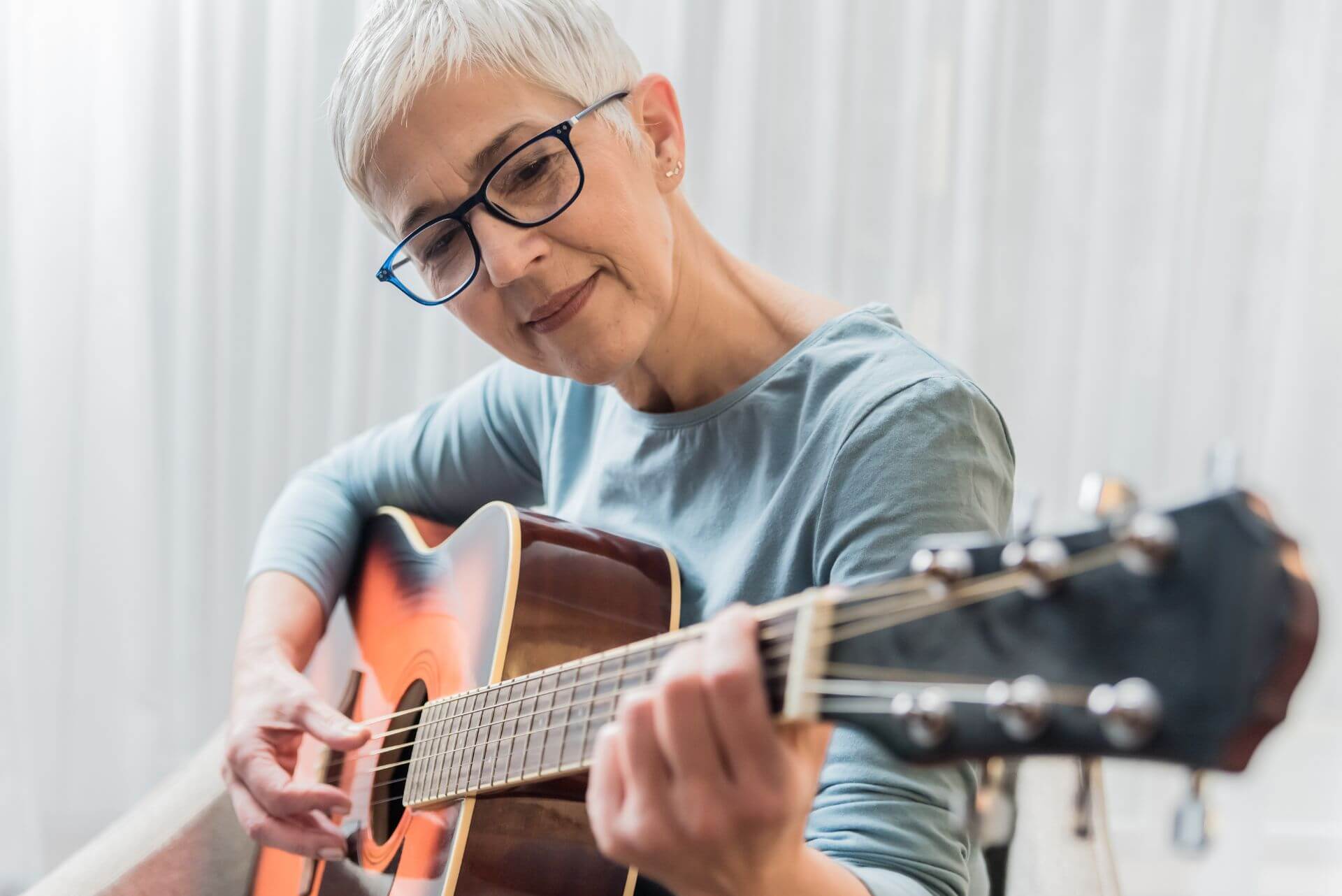 From Beginner to Advanced Guitar Lessons
As students progress on the guitar, the music they learn becomes more challenging and Guitar Lessons naturally become more involved. At some point, it will make sense to switch from 30-minute lessons to 60-minute lessons simply because there is a lot more to cover in their lessons. At MAT, we have Guitar Instructors specializing in each of the phases of growth you will experience, from beginner to advanced. If you are looking for guitar music lessons in Katy, contact Music Academy of Texas today.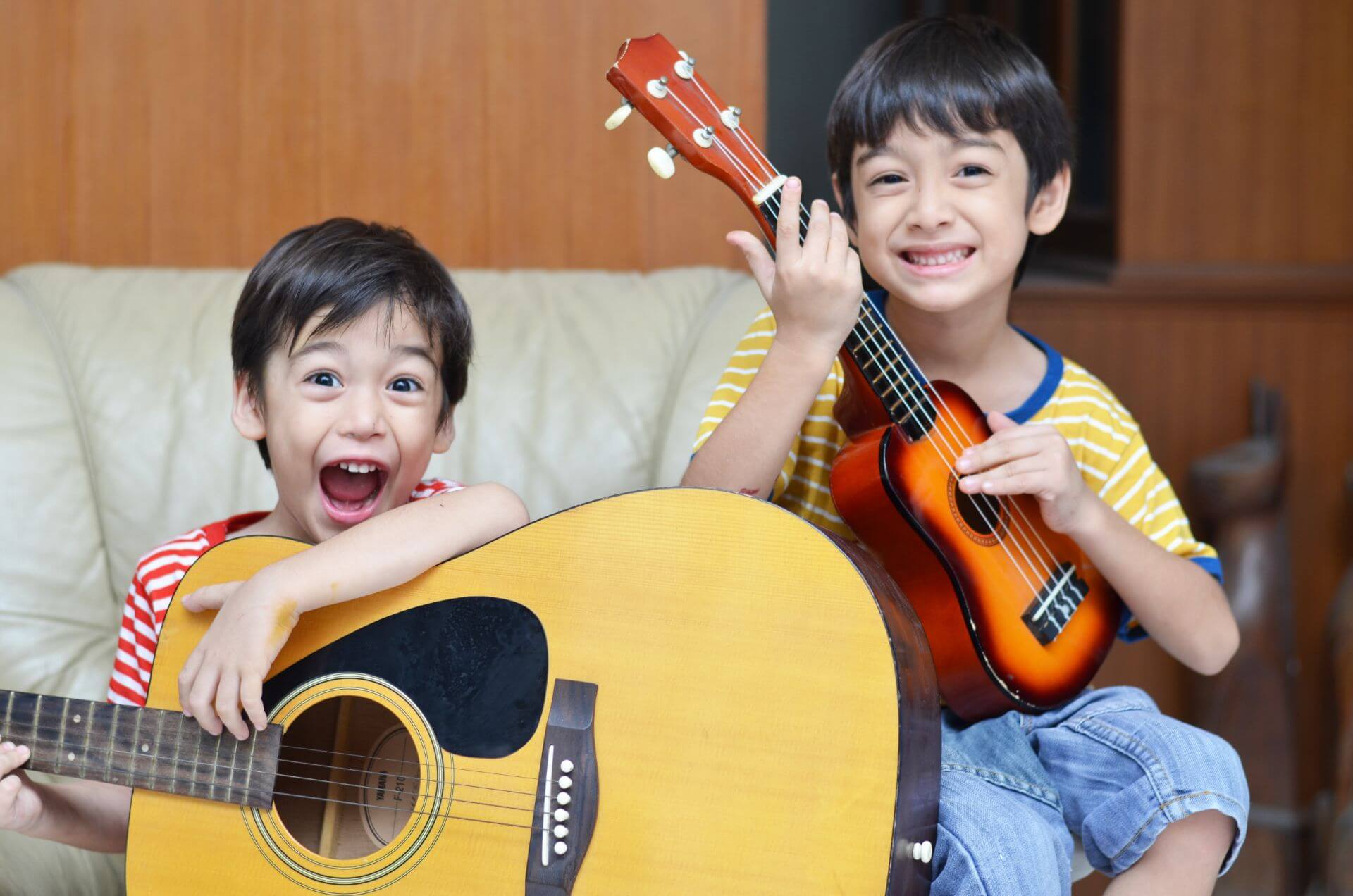 Benefits of Taking Guitar Lessons
Learning the Guitar is fun!
Develops hand-eye coordination and coordination between right and left hands
Boosts the student's confidence and self-esteem
Playing the Guitar is relaxing
Relieves stress
Is often a social experience
Increases concentration and mental focus
Guitar Lessons FAQ's
Do I need to own a Guitar in order to take Guitar Lessons?

Yes, you should own a guitar. Owning will give you easy access to the instrument so you can practice and play the guitar whenever your schedule allows. Also, while you can certainly spend a fortune on high-end guitars, student guitars or beginner guitars are very affordable.
What type of Guitar should I buy?

This is a question that depends on a variety of factors, including your body size and musical preferences. Most guitar instructors recommend nylon string guitars to beginners because the lower string tension is less taxing on the player's fingers. Discuss this question with your Guitar Teacher, who will be happy to advise you on your best option(s).
Do I need to tune my own guitar?

Yes, being able to tune your guitar comes with being a guitarist, and you'll certainly learn that as part of your guitar lessons!
Request More Information about Guitar Lessons!
Why enroll at Music Academy of Texas?
Our faculty tailor their lessons to the individual learning preferences and goals of each student.
CUSTOMIZED MUSIC LESSONS
Our accomplished instructors have earned university and college degrees in their respective fields and have been carefully vetted as part of our interview process.
PROFESSIONAL, CAREFULLY VETTED FACULTY
Enjoy taking your lessons and classes in the school environment of our amazing new facility!
BRAND NEW GORGEOUS FACILITY
Join our diverse student and faculty, who together have created a vibrant community of performing arts lovers and an ideal learning environment for students of all ages and skill levels.
DIVERSITY AND INCLUSION
As a trusted brand, we have been offering fine arts education to the Houston communities for nearly 30 years. Thousands of families have enjoyed our various music and visual arts programs since we first opened our doors in 1993.
TRUSTED BRAND
We work hard to provide a welcoming environment for our students to enjoy their lesson experience.
LEARNING AS AN ENJOYABLE EXPERIENCE
Looking for Guitar Lessons "near me"?