The piano is a wonderful instrument to learn, equally popular among students of all ages. Whether you are a young beginner or an adult, the piano is an instrument that is both impressive in sound and relatively easy to start.


Piano Lessons tailored to your unique learning preferences and goals
At Music Academy of Texas @ Katy, we believe that all students learn differently and in unique ways. That's why our teachers take great care to customize their lessons to each individual student's learning style and aspirations. When teaching style and learning style match, students can make progress quickly and enjoy the lesson experience.


Learn many different styles of Piano Music!
Our Piano Instructors are well versed in many different styles of piano music, from Classical to Romantic and contemporary styles all through the most recent popular songs. Let your Piano Teacher at MAT know which type of music appeals to you so that they can help you learn your favorite piano songs!


What are your Piano Lesson Formats in Katy?
Piano Lessons at Music Academy of Texas @ Katy are available in 30-minute and 60-minute time slots.
Are you ready to start learning the Piano?
Piano Lessons are Great for Kids!
The piano is a great instrument not only for adults but also for kids. There are several reasons for that. First, with just a little bit of practice, students are able to play some basic melodies and soon thereafter, chords! Early wins in the learning process are highly motivating to keep learning. By comparison, orchestral strings such as the violin, viola, and cello, and wind instruments require much more effort to produce a beautiful tone and melody. Second, pianists don't have to tune their instrument themselves; pianos are tuned by professionals from time to time. This, too, is quite different from string instruments, which have to be tuned before each use.
We start students on the piano when they are about 5 to 6 years old. Your kids are always welcome at our piano music lessons in Katy.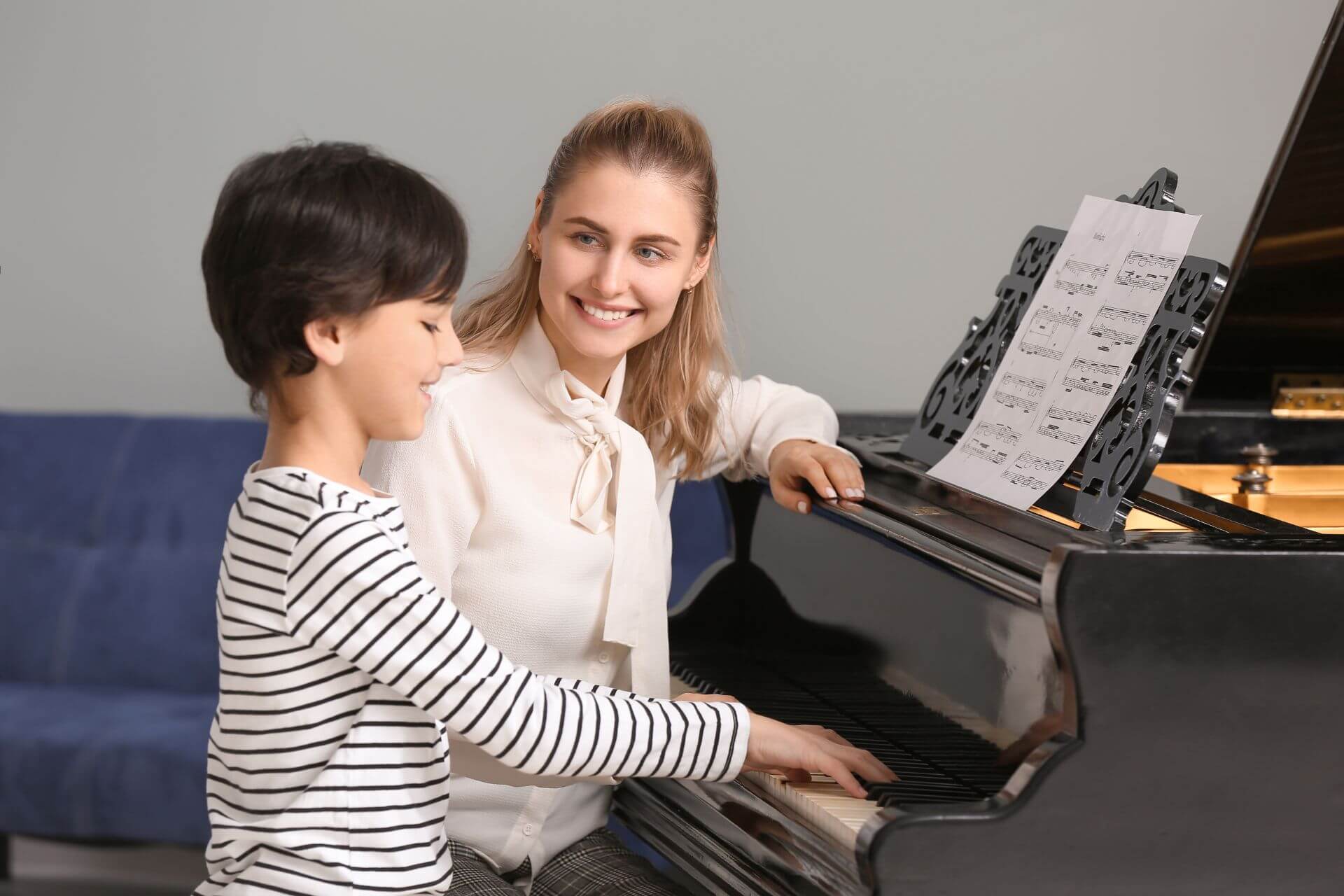 From Beginner to Advanced Piano Lessons
As students progress in their piano lessons, they learn ever more demanding songs. They start absorbing information faster, learn more music, and the pieces they learn are longer. On this path, students typically switch from 30-minute lessons to 60-minute lessons simply because there is a lot more to work on during lessons. Also, some students can benefit from switching to a different instructor, one who is more comfortable with more advanced literature.
At MAT, we have instructors specializing in each of the phases you will go through, from beginner to advanced.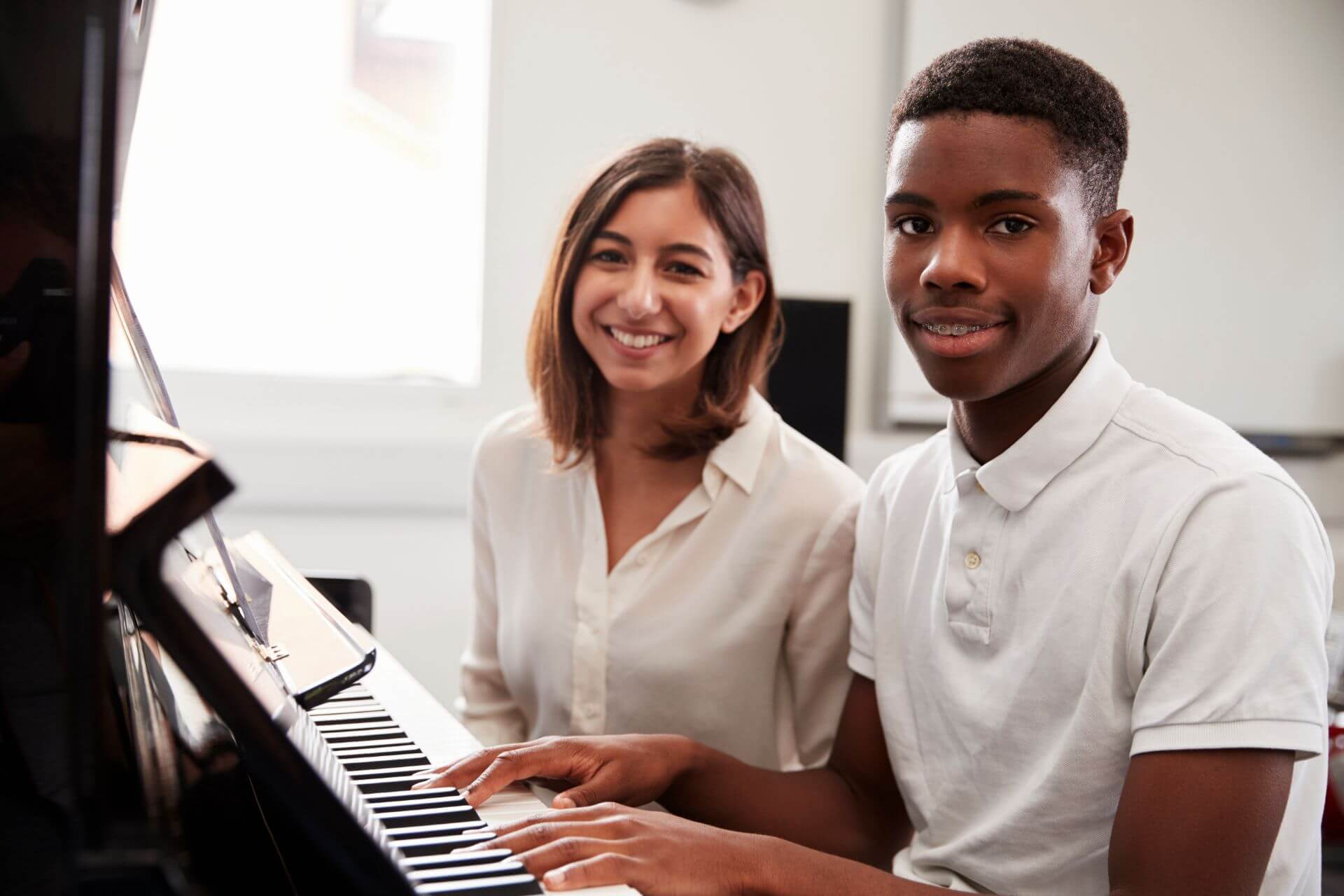 Piano Lessons as a Foundation for Learning Other Instruments
The piano is at the heart of teaching music education. That's why most music classrooms in schools have a piano as part of their inventory. Basic musical concepts such as harmony, melody, polyphony, counterpoint, tonality, and many more are easily illustrated on a piano. Students learning the piano absorb these concepts naturally, turning into skilled and knowledgeable musicians as they progress on the instrument. With a strong musical foundation, many piano students can learn a second instrument with greater ease.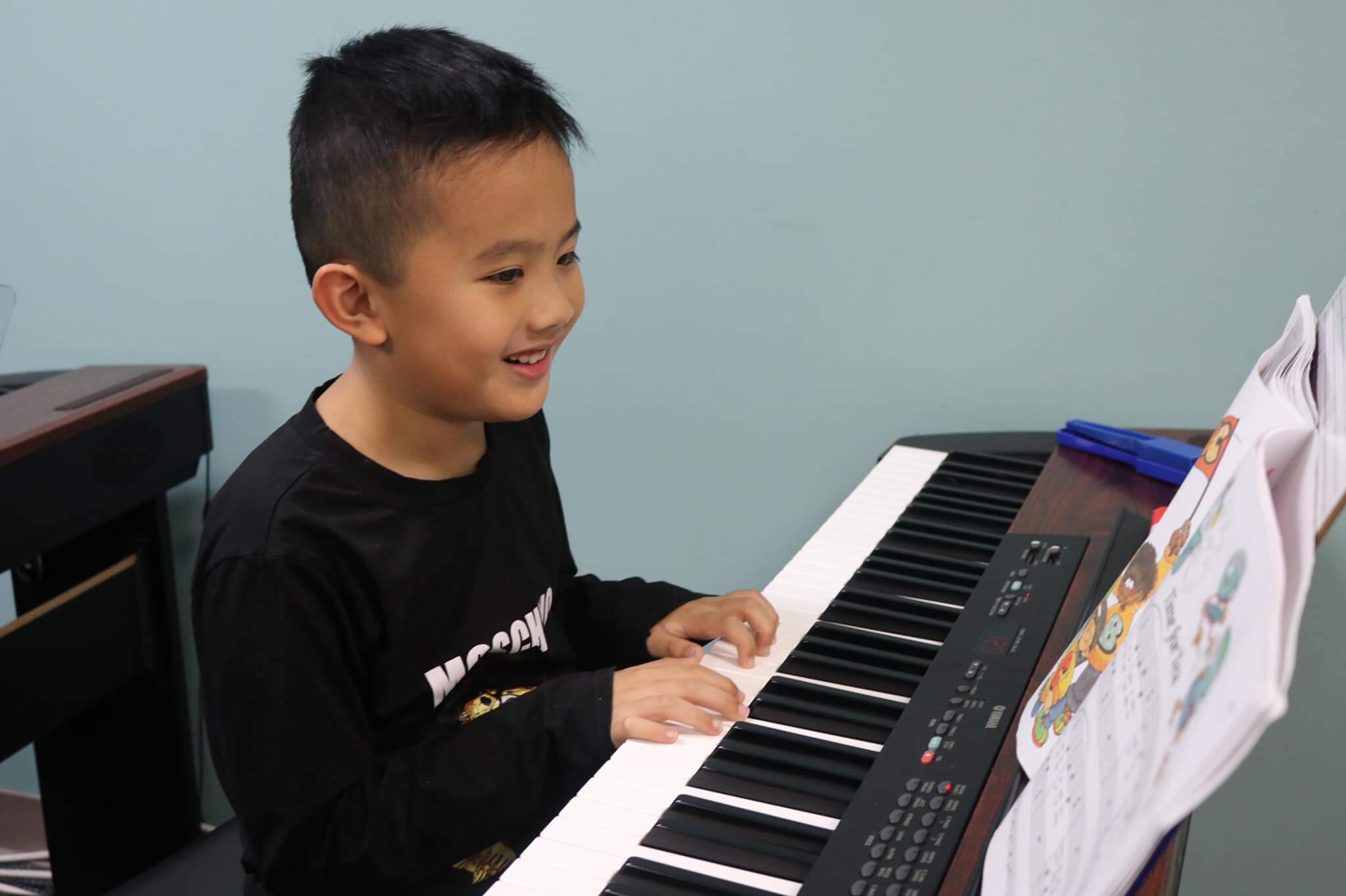 Benefits of Taking Piano Lessons
Taking piano lessons comes with some great benefits. Research confirms:
Piano lessons can make kids smarter
Playing the piano increases both fine motor skills and coordination between the hands
The use of both hands increases spatial organization
Benefits mental focus
Boosts self-esteem
Piano Lessons FAQ's
Do I need to own a Piano in order to take Piano Lessons?

No, you don't need to own a piano yourself. However, you need easy access to a piano for regular piano practice. Some piano dealers rent out pianos for a reasonable monthly fee. Alternatively, there is also a great market for used pianos that can sometimes be had for free or purchased for a fraction of the original purchase price. Look for online listings.

Another option, especially for beginners who want to see if piano is the right instrument for them, is to start with an electronic keyboard. If you do, make sure the keyboard has weighted keys to mimic the touch of a real piano. Talk to your piano instructor about your best options.
What type of piano should I buy?

You have the options of a traditional acoustic upright (vertical) piano, a large acoustic grand piano, a digital piano, and an electronic keyboard. By far the best option in terms of sound is the grand piano. However, it is also the priciest of your choices. While a grand piano is musically superior to the other option, it also makes for a terrific piece of living room furniture even if it is not used for piano playing at all. That said, the most piano students learn on an acoustic upright piano. If budget is tight, go with a good electronic keyboard.
Do I need to tune my own piano? And how often should it be tuned?

No, you don't need to tune your own piano. Tuning a piano is a job for a professional piano tuner who will come to your house to adjust the tuning of the instrument from time to time. How often you should tune your piano depends on a few factors–esp. how frequently the instrument is played and how well controlled the humidity is in your house. In most cases, tuning the instrument every 6 months will suffice.
Why take piano lessons at Music Academy of Texas
@ Katy

?

Excellent Professional Piano Instructors, some of whom are active members of major professional organizations such as MTNA (Music Teachers National Association), TMTA (Texas Music Teachers Association) and NWHMTA (Northwest Houston Music Teachers Association).

MAT Piano Lesson Students have the opportunity to perform in at least two Student Recitals per year.

Our Piano Students may also participate in:
Music Festivals
Theory exams
Piano Competitions
Composition Contests, among other events.
Are you ready to start learning the Piano?
Why enroll

at Music Academy of Texas?
Our faculty tailor their lessons to the individual learning preferences and goals of each student.
CUSTOMIZED MUSIC LESSONS
Our accomplished instructors have earned university and college degrees in their respective fields and have been carefully vetted as part of our interview process.
PROFESSIONAL, CAREFULLY VETTED FACULTY
Enjoy taking your lessons and classes in the school environment of our amazing new facility!
BRAND NEW GORGEOUS FACILITY
Join our diverse student and faculty, who together have created a vibrant community of performing arts lovers and an ideal learning environment for students of all ages and skill levels.
DIVERSITY AND INCLUSION
As a trusted brand, we have been offering fine arts education to the Houston communities for nearly 30 years. Thousands of families have enjoyed our various music and visual arts programs since we first opened our doors in 1993.
TRUSTED BRAND
We work hard to provide a welcoming environment for our students to enjoy their lesson experience.
LEARNING AS AN ENJOYABLE EXPERIENCE
Top-Rated Piano Lessons in Katy TX
Music Academy of Texas is located at 25031 Westheimer Parkway, Katy, TX, 77494. From George Bush Intercontinental Airport (IAH) get on TX-8 Beltway W from Jetero Blvd/Will Clayton Pkwy and John F Kennedy Blvd and head west on Jetero Blvd/Will Clayton Pkwy. Continue onto John F Kennedy Blvd and use the left 2 lanes to take the exit toward TX-8 Beltway/I-45. Then, slight right toward N Sam Houston Pkwy E/Texas 8 Beltway Frontage Rd and use the left lane to take the ramp onto TX-8 Beltway W. Take Sam Houston Tollway W and I-10 W to W Grand Pkwy S and take the exit toward Highland Knolls Blvd/Bay Hill Blvd from TX-99 S. After that, merge onto TX-8 Beltway W and continue onto Sam Houston Tollway W. Use the right 2 lanes to merge onto I-10 W toward San Antonio and use the right 2 lanes to take exit 743B to merge onto TX-99 S. Afterwards, take the exit toward Highland Knolls Blvd/Bay Hill Blvd and take Roesner Rd to Westheimer Pkwy in Fort Bend County. Merge onto W Grand Pkwy S and turn right onto Katy Gap Rd. Finally, turn left onto Roesner Rd and turn left onto Westheimer Pkwy, and Music Academy of Texas will be on the right.

We are open from Monday to Friday: 9 AM–8:30 PM, Saturday: 9 AM–4 PM

For additional questions, you can call us (346) 646-5355 or find us on Yelp.
Looking for Piano Lessons "near me"?